Coveo Platform New Features
The Coveo Platform is where your Coveo organization index is hosted. Coveo Platform updates are regularly made available to offer new and improved features.
For updates on Coveo Platform incidents, subscribe to notifications on the Coveo Platform Status page.
July 16, 2021 Update
Create Coveo Machine Learning Smart Snippets Models
A Coveo Machine Learning Smart Snippets model provides answers to user queries directly on the results list. The feature also provides additional questions and topics to help users find further information related to their queries without leaving the results page.
You can now create Smart Snippets models using the Coveo Administration Console.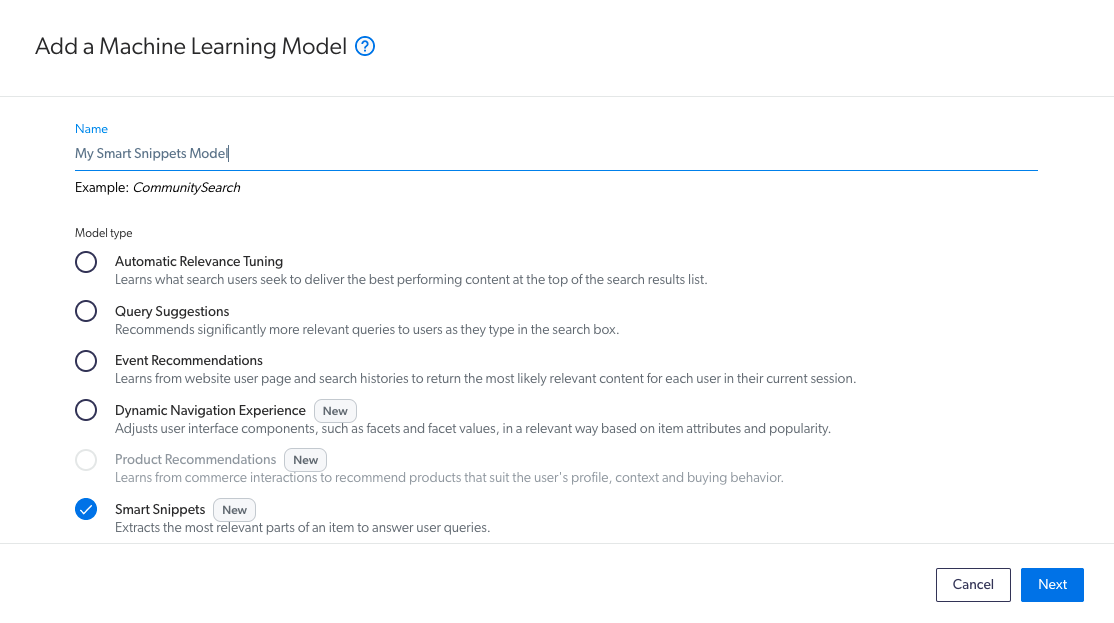 July 7, 2021 Update
Moving Your Organization Status to the Notification Center
Your organization status, which previously appeared in the bottom-left corner of the Administration Console, now resides in the notification center. Badges on the bell icon notify you of status changes.
June 21, 2021 Update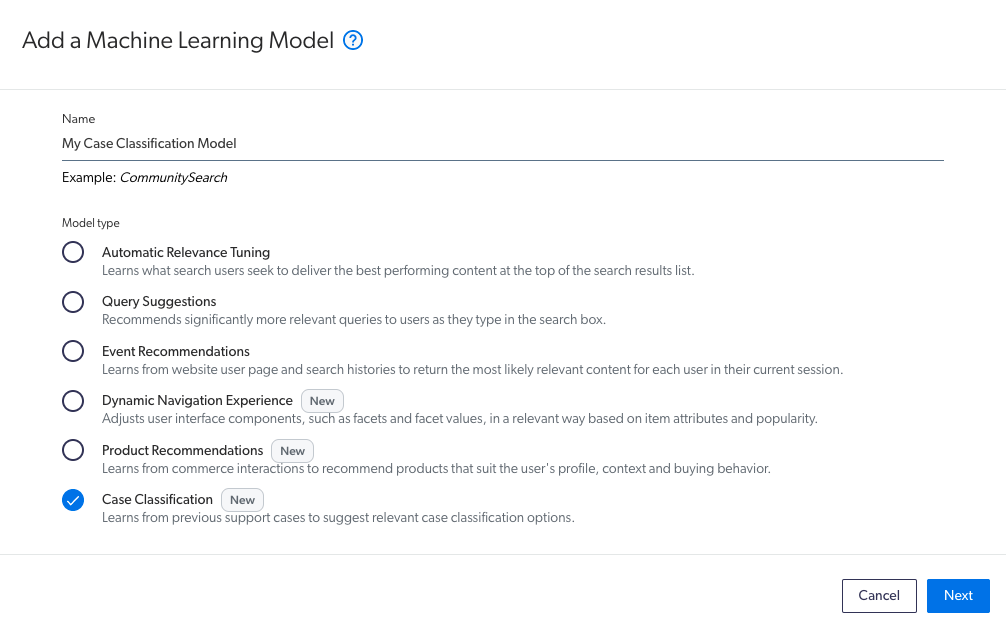 June 16, 2021 Update
New Notification Center
A notification center has been added to the header of the Administration Console. For now, it allows you to access the Critical Updates and User Notifications pages. Additional features will be added in an upcoming release.
Web Source Configuration Tab Overhaul
The Web source Configuration tab has been overhauled in an effort to clarify and streamline the source configuration process. Changes include: ​
Moving the Content to Include section to the top and expanding it by default.
Renaming options (e.g., Crawling limit rate is now called Delay between requests).
Moving lesser-used interface options to the JSON configuration (e.g., MaxCrawlDepth, IndexExternalPages, RespectUrlCasing).
Grouping like options and information together (e.g., OCR options and User agent are now located in the Crawling Settings section).
Improving helper text and tooltips.
June 10, 2021 Update
Header Enhancement: Moved Organization Settings
In an ongoing effort to improve the header of the Administration Console, the Settings panel has been moved to the navigation menu, in the Organization section.
Copy Source ID to Clipboard Option
On the Sources page, you can now click a source and, in the More menu, select Copy source ID to clipboard. The source ID is required in many Coveo Platform REST API operations.
May 12, 2021 Update
Improved SharePoint Online Item Indexing
For SharePoint Online sources that do not index unapproved items, Coveo no longer deletes an approved item from the index when a newer version of the item exists with an approval status of Draft or Pending. If the Unapproved items option is disabled in a SharePoint Online source, an approved item is not deleted from the index when a newer draft version of the item exists.
April 21, 2021 Update
Index Content of Shared Drives in Google Drive for Work
By default, a Google Drive for Work source indexes the content of the My Drive folder for either all or specific users on your domain, depending on the source Content Security configuration. However, you can now configure the source to index content from users' Shared Drives as well.
Dictionary Fields
Dictionary fields can be used anywhere you have multiple keys and values. They are most commonly used in commerce environments, where you'd have products sold at varying prices based on a store's location.
Benefits of using a dictionary field include:
Displays the exact price of a product at all times.

There is no query lag, as the displayed price is extracted from the dictionary.

The facets created for sorting the product are precise.

Each shopper sees only one price.
March 10, 2021 Update
Export Resource Configuration From One Organization to the Other
Typically, Coveo customers have a production organization and at least one non-production organization. This allows them to test changes in a non-production environment before applying them to the production organization.
To this end, the new resource snapshot feature lets you copy resource (e.g., source, field, and query pipeline) configurations from one organization to the other, rather than reproducing them manually in a second organization. This feature is especially useful when you have a large number of resources and want to make bulk changes.
Overall, the resource snapshot feature allows you to:
Export and import multiple resource configurations from one organization to the other.
Review a diff of the changes you import in an organization.
Save snapshots as backups.
Roll back your changes by importing a previous configuration.
Download and import snapshots into a version control tool.
February 12, 2021 Update
New Query Pipeline Navigation and A/B Test Experience
In order to provide a more intuitive experience, the tools provided in the Query Pipelines page have been reorganized. Query pipeline rule types are now grouped into a smaller number of tabs to improve and simplify the navigation.
In addition, you can now use the new Overview tab to manage the basic configuration of a query pipeline, such as its name, user notes, conditions, and access levels.
Finally, you can now manage your A/B tests directly in your query pipeline configuration using the A/B Test tab. This tab offers a newer and more convenient way to conduct A/B tests.
Note that these changes are currently being tested for quality assurance purposes. Therefore, the new query pipeline navigation is only available for Coveo organizations that have gone through the migration process. However, these changes will be available for all Coveo organizations by the end of March 2021.
Documentation on the new navigation tabs:
New Web and Sitemap Source Authentication Options
In the Web and Sitemap source panels, new authentication configuration options have been added.
First, the new confirmation methods URL Presence and Missing URL now allow you to enter a URL pattern that Coveo will use to determine whether an authentication request has failed.
In addition, when configuring automatic form authentication, you now have the option to have Coveo's first request be for authentication.
January 29, 2021 Update
Important Announcement
Coveo will deprecate OpenText Content Server (OTCS) sources on July 31, 2021. If you already have an OTCS source, it will remain operational until then. However, OTCS sources can't be added in organizations created in February 2021 or later.
January 12, 2021 Update
New Look, New Logo, Same Coveo Power
For 2021, we have a brand new logo, along with some other tweaks to our appearance — the first step in our big 2021 plans! You'll find all the features and functionality you love exactly where you expect them to be, with a refreshed look and feel.