Manage API keys
Manage API keys
This is for:
System Administrator
A developer working on a Coveo deployment may require one or more API keys to interact with Coveo programmatically. Coveo organization administrators should therefore understand and apply leading practices when it comes to managing API keys.
The following are typical situations where an API key is required:
A developer is working on a search interface that can show public and secured content. They need an API key to implement search token authentication.

A developer is building a custom connector that uses the Push API to index content behind a firewall. They need an API key to authenticate their Push API calls.
Leading practices
Sharing API keys
Communicate API keys only to legitimate stakeholders through secured channels.
Disable/Enable an API key
When you disable an API key, its privileges are suspended while its configuration is kept intact.
Delete an API key
| | |
| --- | --- |
| | Deleting an API key that's currently in use will most probably break the application that gets services from your Coveo organization with this key. Confirm with API key stakeholders that the key is no longer used prior deleting it. |
Review API key management activities
As part of your duties, you may need to review activities related to API keys for investigation or troubleshooting purposes. To do so, in the upper-right corner of the API Keys (platform-ca | platform-eu | platform-au) page, click
.
Limit the scope of an API key
When granting some privileges of the Search domain, you'll see a Limit the API key scope section appear at the bottom of the resource list. This means you've selected privileges that are especially potent, and that, should your API key be disclosed, could be misused to access your content and/or bypass the permission system.
Therefore, when you grant any of these privileges to an API key, you must select a search hub to limit its scope.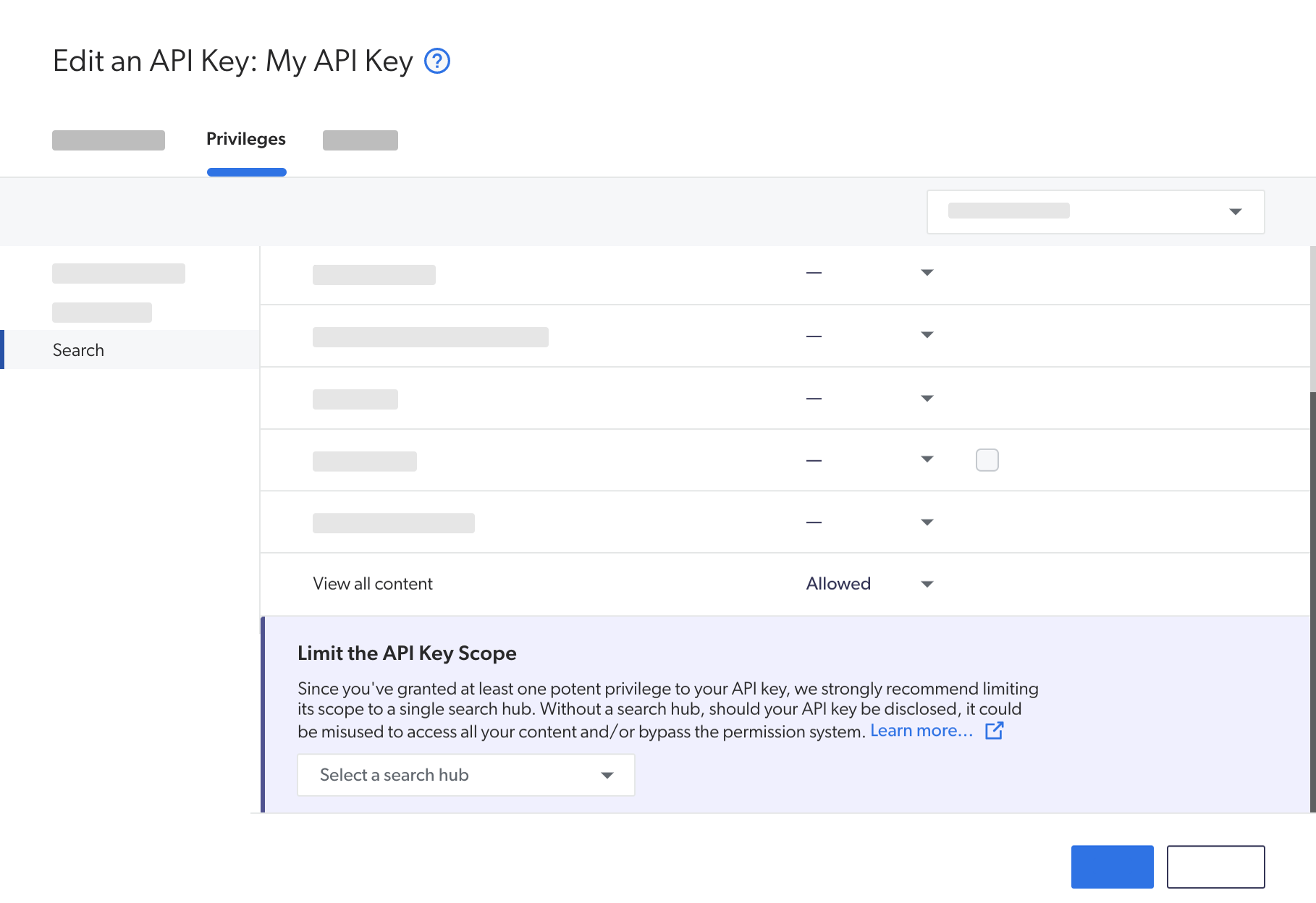 API key privilege presets
To quickly and broadly grant privileges to a group or API key, you can use the Preset dropdown menu in the Privileges tab Action bar. Your selection applies to all services.
In other words, when granting a custom access level configuration, you can save time by selecting the preset configuration closest to the access level set you want to grant, and then editing the desired privileges. The Preset dropdown menu then indicates: Custom.
Note

For example, if you have the privilege to view all sources, you can't grant the Edit all or Custom access levels on the Sources domain to an API key or group. Your only options are therefore View all and No access.
When granting privileges to an API key, your options in the Preset menu are:
| Preset | Description | Grant to |
| --- | --- | --- |
| Minimal access | Doesn't grant any privileges. You can use it as a starting point to grant your API key only the privileges needed | Any API key |
| Admin | Allows making administrative changes to your Coveo organization just like you would in the Administration Console. This preset is useful if you're building an application that needs to modify your organization. | Private (server-side) API keys only |
| Search | Allows passing the user's identity to Coveo along with their query, so Coveo can return the items they're allowed to see. Items with a permission model may appear in the search results, depending on whether a user is allowed to see each item. | Private (server-side) API keys only |
| Anonymous search | Doesn't pass the user's identity to Coveo along with their identity. Users aren't required to log in to use the interface, therefore they're all anonymous. Items with a permission model don't appear in the search results. | API key in a public search interface (users aren't authenticated) |
| Monitoring | Grants the View access level on most domains. It's useful if you're building external statistics dashboards for your Coveo organization, for example. | Private (server-side) API keys only |
| Analytics | Grants the privilege to send usage data to your Coveo organization using any identity. It's useful if you're building external statistics dashboards for your Coveo organization, for example. | API key in a search interface (users may or may not be authenticated) |
Required privileges
Action
Service - Domain
Required access level
View API keys

Organization - Activities

Organization - API keys

Organization - Groups

View
Edit API keys

Organization - Activities

Organization - Groups

View

Organization - API keys

Edit
| | |
| --- | --- |
| | A member with the View access level on the Activities domain can access the Activity Browser. This member can therefore see all activities taking place in the organization, including those from Administration Console pages that they can't access. |