About the Indexing Process
About the Indexing Process
In the following diagram, the indexing pipeline stages over which you can exercise control have a bright orange background.
This article provides an overview of each of those stages.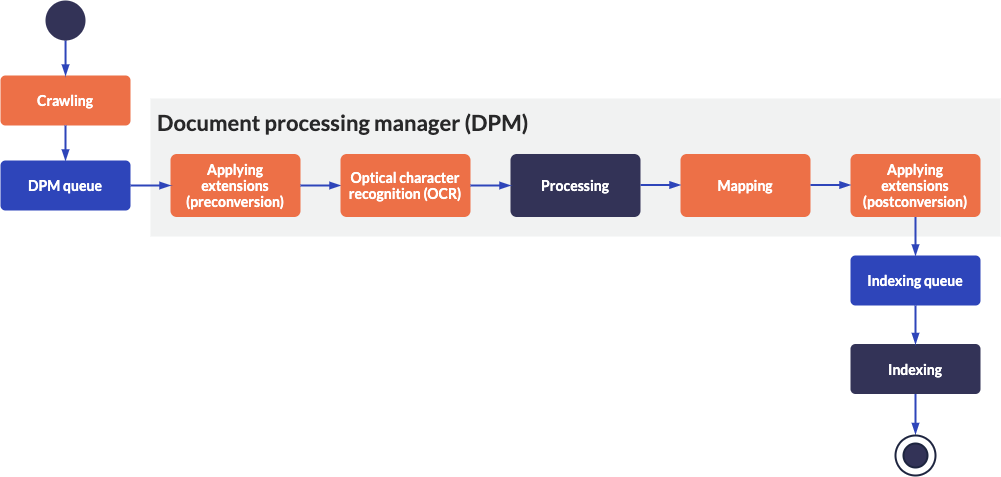 Applying Extensions
At the applying extensions stages of the indexing pipeline, indexing pipeline extension (IPEs) are executed. An IPE is a custom Python 3 script that either runs before (pre-conversion) or after (post-conversion) the processing and mapping stages of the indexing pipeline (see Processing and Mapping). Each source can have its own set of pre-conversion and post-conversion IPEs (see Apply an Extension to a Source). IPEs typically alter or reject candidate items before they can reach the index.
Leading practice

IPEs can slow down the indexing pipeline process and make it difficult to troubleshoot. Therefore, you should use IPEs only when actually required.
Optical Character Recognition
At the optical character recognition (OCR) stage of the indexing pipeline, Coveo extracts text from images and PDF files in sources for which the OCR feature has been enabled (see Enable Optical Character Recognition). OCR-extracted text is processed as item data, meaning that it's fully searchable, and will appear in the item Quick View (see Search Result Quick View).
Processing
At the processing stage of the indexing pipeline, candidate items are converted to a format suitable for indexing, and automatic language detection occurs, if applicable. You can exercise no direct control over this stage.
Mapping
At the mapping stage of the indexing pipeline, candidate item metadata is associated to fields in the index. You can exercise granular control over this stage through the mapping configuration of each of your sources (see Manage Source Mappings).
Note

The mapping stage merely establishes which metadata key-value pairs are going to populate which fields. Fields are actually populated at the indexing stage (see Indexing).
Indexing
At the indexing stage of the indexing pipeline, fields are populated with metadata as determined at the mapping stage (see Mapping), and the fully processed item is committed to the index.
You can exercise no direct control over this stage.
What's Next?
The next article in this section outlines the steps you should follow before you start indexing content (see Preparing for Indexing).
Was this article useful?
Thanks for your feedback!