Product insights
Product insights
This is for:
Developer
In this article, in this article, we'll introduce you to Product Insights and show you how you can use them to uncover hidden revenue opportunities in your product catalog.
Intro
Note

This feature is currently in Beta–this means that the functionality is subject to frequent change as we fine-tune the implementation.
Every week, Product Insights provides focus on which products can drive additional revenue by showcasing them on the right category pages.
We know that merchandisers, with thousands of products to merchandise and challenging trading targets, focus their efforts on the top 20% of their product catalog, the hero products and top sellers that generate the highest revenue.
But what about your product catalog tail and those products that aren't merchandised but delight your customers when they find them?
Key features
Get weekly insights at the start of the working week on the most valuable PLPs across your website to target

Showcase the best over-performing product on that PLP

Uncover the revenue opportunity behind taking this action

Use pre-built campaigns so you can increase the prominence of this product quickly

Take advantage of A/B testing so you can measure the impact on your bottom line
Product video
Join our Product Manager Jason Fernandes as he explains more about how our research and feedback from merchandisers informed our decision to build Product Insights to surface demand signals in your product catalog:
Our research
Our research shows that across 100 retail clients, the average product catalog size is 13,000 products; that means 13,000 products to merchandise. So focusing on those individual hero products that generate the highest revenue makes perfect sense. These products drive 30% of the revenue after all!
However, did you know that 70% of revenue comes from the products you are not actively merchandising:
This is where product insights come in. We've designed them to help you find hidden gems in your product tail and enable you to take swift action to take advantage of revenue opportunities.
Product insights are available in the Merchandising UI, and are designed to uncover hidden revenue opportunities in your product catalog tail.
How does it work?
Product insights are driven by a machine learning model, which takes your customer and product data, including every single product interaction, to make predictions about what combinations of a product and a PLP would drive the largest increase in revenue if more people on your site clicked through on that product.
We surface these predictions, taking the latest data and interactions from your catalog to give you a weekly feed of insights. Let's look at an example:
For each insight, we predict the weekly revenue you could expect to generate by taking action:

FAQs
How can I take action on these insights?
We'll get into this in more detail in Take action on your insights, but as you'd expect from our Merchandising UI, we've made it super easy for you to take action on each of your insights, with a four-step build flow, very similar to the campaign flow in personalized content:
Through the use of Placements, products can be showcased on your PLPs with just a few clicks. We pre-populate the campaign for you, so all you need to do is preview and you're ready to go: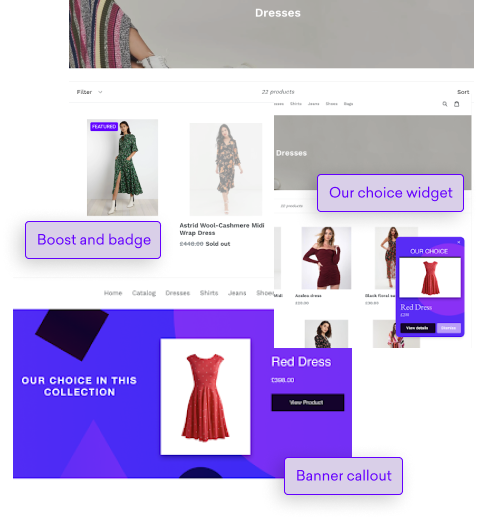 Can I take action on more than one product and PLP simultaneously?
Whilst we investigate the possibility of enhancing our capabilities in this area, currently, the Product Insights flow only allows you to promote one product and PLP pair at the same time.
In the short term, the insights Placement is also available in the Personalized content flow. This means you can use the insights shown on your home page and create a decision table in PC to target different PLPs each with a different product.
Can we increase the prominence of more than one product on a specific PLP?
Following clear examples from across the eCommerce space, we've intentionally pared this back to one product to ensure the product truly stands out and to take maximum advantage of the revenue opportunity.
When previewing, why does my insights-led campaign trigger on all PLPs instead of just the one being targeted in the campaign?
When you preview a campaign in the Merchandising Hub, we bypass the audience check for ease of testing. Since different pages are targeted via audiences, you'll see the campaign trigger on all PLPs where the Placement is set up.
Once the campaign goes live, audience checks are applied and the campaign will only be shown on the specified PLP.
Why does the reported revenue opportunity not match the predicted conversions x the product price?
The reported revenue opportunity is based on the number of additional conversions we expect to see and the product price, but it's not a simple conversion x product price calculation. Why not?
Well, mostly because products are purchased in different order quantities but also because when model predicts the average number of extra conversions per week, the result is unlikely to be a whole number (integer). We actually round the number down in the Merchandising UI.
How can I prevent Product Insights suggesting actions on products and/or PLPs that our business doesn't want to focus on?
If you already know what products your business wants to focus on, it is possible to customize the model accordingly. To do this, please reach out to your Customer Success Manager.
How does Product Insights handle products that are out of stock?
We show you new insights every Monday. If one of the products within your insights is out of stock, we'll notify you directly in the Qubit app. You can still create and publish a campaign, but the campaign won't trigger on site until the product has been replenished.
If you've taken action on a product that then becomes out of stock, we will automatically stop triggering the campaign and add a message to the campaign results page explaining that the product is now out of stock.
When the stock is replenished, assuming the campaign has not been paused by a schedule or by a member of your team, we will trigger the campaign again.