Ensure that authentication enforces search hub values
Ensure that authentication enforces search hub values
This is for:
Developer
System Administrator
Verify Whether the Search Hub Is Enforced in the Authentication Method
| | |
| --- | --- |
| | Note |
To comply with the recommended query authentication method, you should verify the following:
Step 1: Verify That Your Queries Are Properly Routed
Step 2: Validate That the Search Hub Is Enforced in the Authentication
In a Coveo-powered solution, each distinct search interface should be identified by its own unique search hub value (see Set the Search Hub).
This search hub value should be enforced in the authentication (search token or API key) to ensure that queries are routed to the proper query pipeline.
The procedure varies depending on whether you're using search token or API key authentication:
Search Token Authentication
In your browser, open your developer tools, and then select the Network tab.

Access the search interface you want to test.

Trigger a search request from the search interface. If the search interface has an input that can provide query suggestions (e.g., a search box), you should test both query and query suggestion requests.

In your browser tools, search for a POST request made against a Coveo search endpoint (e.g., you can use a filter such as cloud.coveo.com/rest/search).

In the request headers, search for the Authorization header.

Copy the value of the Authorization header (the token), and then use a JSON web token decoder such as JWT to decode the search token.

In the decoded payload, search for the searchHub parameter.
If the searchHub parameter is in the search token, it means that this search hub is enforced through the search token. If you don't see the searchHub parameter, we strongly recommend that you enforce the searchHub parameter in the search token. See Search Token Authentication for instructions.
API Key Authentication
If you're using the API Key authentication, you can verify if a search hub value is enforced in the API Key directly in the Coveo Administration Console:
On the API Keys (platform-ca | platform-eu | platform-au) page, click the desired API key, and then click Edit in the Action bar.

On the subpage that opens, select the Privileges tab, and then, in the menu on the left, click Search.

Scroll down to the bottom of the list of privileges. If your API key has been granted privileges that warrant limiting its scope to a search hub, a section appears to let you select a search hub.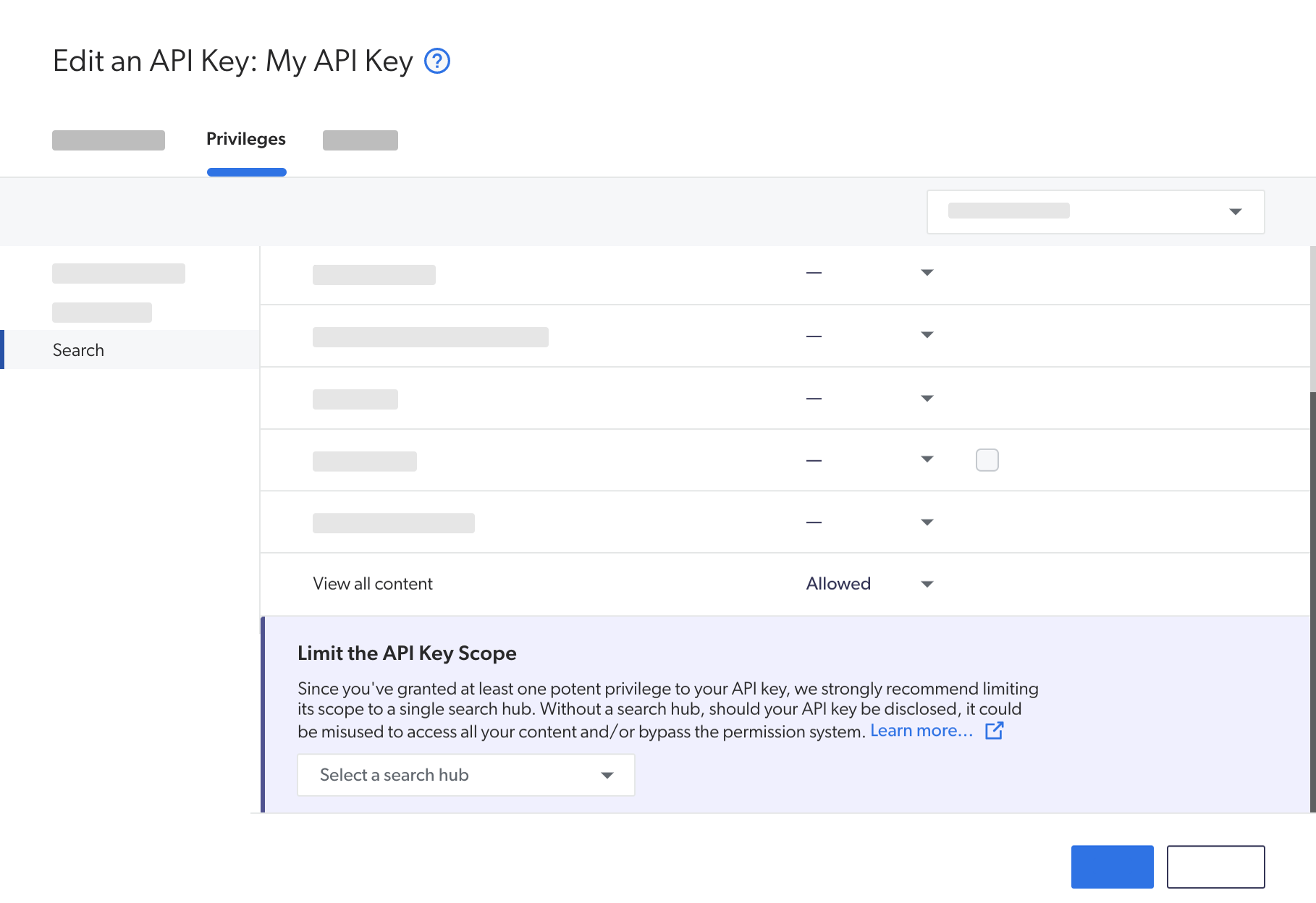 If you see a search hub value in the Limit the API key scope section, it means that this search hub is enforced in the API key. If no value is present, we strongly recommend that you enforce a search hub in this API key if a query pipeline has this search hub as a query pipeline condition. See Add an API key for instructions.