November 2019 Release (v1.12.3)
This page summarizes the new features and bug fixes introduced in the Interface Editor November 2019 Release (v1.12.3).
Release Highlights
Code View: Introducing Intelligent Code Completion
Issue numbers: IE-653, IE-656, IE-657, IE-658, IE-664, IE-667, IE-669, IE-671, IE-672, IE-673, IE-674, IE-676, IE-678, IE-680, IE-681, IE-682, IE-683, IE-686, IE-710, IE-711
The Code View now provides intelligent code completion features (suggestions, documentation, validations, etc.).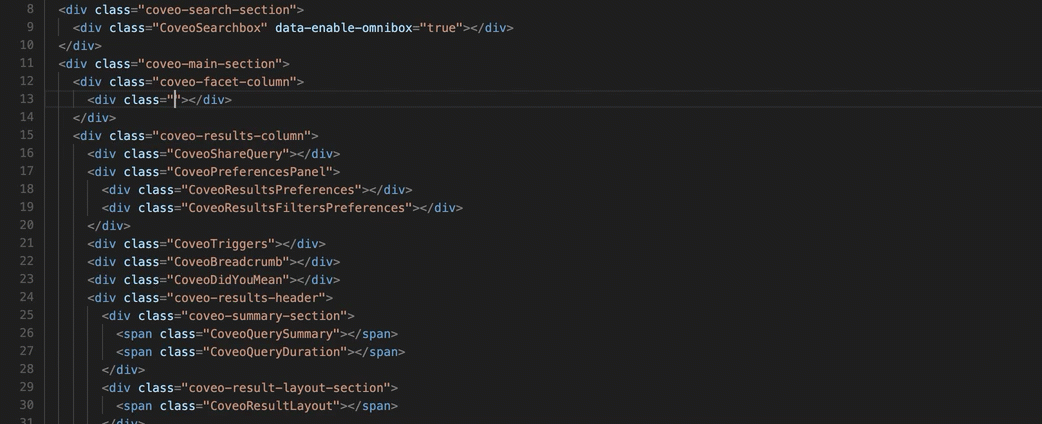 Code View: Toggle Dark Mode
You can now toggle between light and dark mode in Code View.

Issue number: IE-689
Other Changes
| Issue number | Enhancement |
| --- | --- |
| IE-644 | Suggest only facetable fields of the expected type when editing a facet. |
| Issue number | Case | Maintenance case |
| --- | --- | --- |
| IE-688 | 00055383 | Fixed issue where result template component's option panel sometimes turned blank. |
| IE-712 | 00056861 | [Coveo for Salesforce] Fixed issue where sections of the UI Settings didn't expand as expected. |