October 2019 Release (v2.7219)
This page summarizes the improvements, new features, and bug fixes introduced in the October 2019 Release (initially released as v2.7219.9).
To download the latest version of this release (v2.7219.22):
Resource
Script to include
Coveo JavaScript Search Framework (minified)

<!-- Coveo JavaScript Search Framework (with lazy loading) -->




<script 

class=

"coveo-script"

 

src=

"https://static.cloud.coveo.com/searchui/v2.7219/js/CoveoJsSearch.Lazy.min.js"

></script>




<!-- If you prefer to use the eager loading version, use the following link instead -->




<script 

class=

"coveo-script"

 

src=

"https://static.cloud.coveo.com/searchui/v2.7219/js/CoveoJsSearch.min.js"

></script>




CSS

<link

 

rel=

"stylesheet"

 

href=

"https://static.cloud.coveo.com/searchui/v2.7219/css/CoveoFullSearch.css"

/>




Result templates

<script 

src=

"https://static.cloud.coveo.com/searchui/v2.7219/js/templates/templates.js"

></script>



Release Highlights
Invert Omnibox Suggestion Highlighting
Issue number: JSUI-2325
According to recent UX research, the leading practice when it comes to designing autocomplete widgets is to highlight differences rather than the original text entered by the end user. Doing so helps the end user focus on what would end up being added to their query if they select a given suggestion.
The framework now applies this principle when providing search box suggestions.
Before:
Now:
This change may cause styling issues in solutions that have customized the way Omnibox suggestions are being highlighted.
Clear Session Information and Disable Analytics
Issue number: JSUI-2518
To make it easier for developers to implement GDPR-compliant consent/withdrawal mechanisms, three new top-level functions are now available:
See also Can I Disable Coveo Usage Analytics in a Search Interface?.
New Pilot Component: DynamicFacetRange
Issue numbers: JSUI-2586, JSUI-2633, JSUI-2638
The new DynamicFacetRange component is now available as a pilot feature, allowing you to further leverage the Coveo Machine Learning (Coveo ML) Dynamic Navigation Experience (DNE) feature in your search interfaces.
See:
<div

 

id=

"search"

 

class=

"CoveoSearchInterface"

>


  

<div

 

class=

"coveo-facet-column"

>


    

<div

 

class=

"CoveoDynamicFacetManager"

>


      

<div

 

id=

"ViewsFacet"

 

class=

"CoveoDynamicFacetRange"


           

data-title=

"Views"


           

data-field=

"@views"

>


      

</div>


    

</div>




</div>



document

.

addEventListener

(

"

DOMContentLoaded

"

,

 

()

 

=>

 

{


  

const

 

viewsFacetRanges

 

=

 

[


    

{

 

"

start

"

:

 

0

,

 

"

end

"

:

 

250

 

},


    

{

 

"

start

"

:

 

250

,

 

"

end

"

:

 

500

 

},


    

{

 

"

start

"

:

 

500

,

 

"

end

"

:

 

1000

 

},


    

{

 

"

start

"

:

 

1000

,

 

"

end

"

:

 

2500

 

},


    

{

 

"

start

"

:

 

2500

,

 

"

end

"

:

 

5000

 

}


  

];


  

Coveo

.

init

(

document

.

body

,

 

{


    

ViewsFacet

:

 

{

 

ranges

:

 

viewsFacetRanges

 

}


  

});




});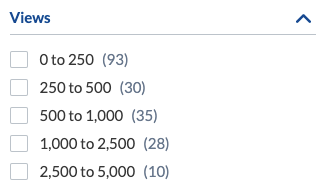 Other Changes
| Issue number | Case | Maintenance case |
| --- | --- | --- |
| JSUI-2641 | 00055430 | [Facet] Fixed display issue with settings menu. |
| JSUI-2649 | 00054917 | [Pager] Fixed issue where navigating with browser Back button could lead to wrong result page. |
| Issue number | Bug fix |
| --- | --- |
| JSUI-2572 | Fixed issue where field names containing underscore (_) characters were not considered when the autoSelectFieldsToInclude ResultList option was enabled. |
| JSUI-2614 | Fixed issue where customIdValue was not kept when sent in usage analytics event customData. |
| JSUI-2620 | Fixed issue where some hyperlinks were difficult to read on YouTube results with default card template. |
| JSUI-2637 | [DynamicFacetManager] Fixed issue where DynamicFacet components without values were removed from the DOM when switching tabs. |
| JSUI-2639 | [External Omnibox] Fixed issue where events were triggered from the Omnibox element rather than from the root element. |
| JSUI-2646 | [Tab] Fixed display issue in responsive mode. |
Additional Changes in Maintenance Versions
v2.7219.22
| Issue number | Bug fix |
| --- | --- |
| JSUI-2715 | Fixed issue where facets could be in a hovered state on touch-enabled (i.e., mobile) devices. |
v2.7219.15
| Issue number | Bug fix |
| --- | --- |
| JSUI-2688 | Fixed issue where two query suggestion requests were sent when clicking in the search box. |
v2.7219.11
| Issue number | Case | Enhancement |
| --- | --- | --- |
| JSUI-2677 | 11156520 | [Searchbox] Fixed issue where left and right arrow keys had no effect. |