June 2019 Release (v1.11.4)
This page summarizes the new features and bug fixes introduced in the June 2019 Release (v1.11.4).
New Drag and Drop Components
The Category Facet, Timespan Facet, and Simple Filter components are now available as drag and drop components in the Interface Editor.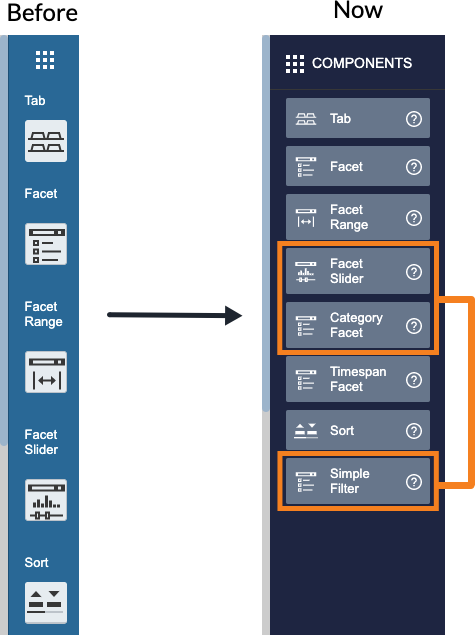 New Way to Create Tabs
The Add a New Tab button has been removed. Pre-configured tabs can now be created more naturally by drag and dropping a Tab component in the page.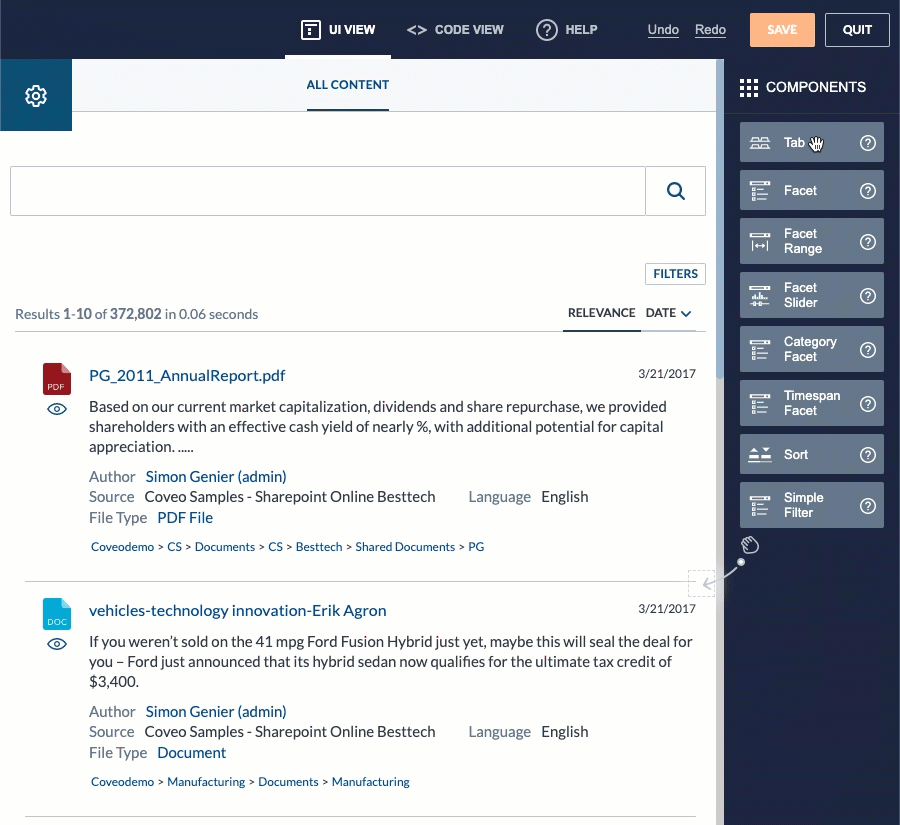 Simplified Settings
Several advanced components and options have been removed from the Interface Editor in an effort to make it easier to use.
You can still leverage advanced components and options in the markup configuration of your search page, which is accessible through the Code View tab in the Interface Editor (see Automatic Initialization and Using Attributes).
You want your search page to send custom context information along with each query and usage analytics event.

Since you can no longer create PipelineContext components in the Interface Editor UI, you configure the component directly in the markup of your search page:

<div

 

id=

"search"

 

class=

"CoveoSearchInterface"

>


  

<!-- ... -->


  

<script 

class=

"CoveoPipelineContext type="

text

/

context

"

>


    

{


      

"

userRole

"

:

 

"

developer

"


    

}


  

</script>


  

<!-- ... -->




</div>




You want to set the allowQueriesWithoutKeywords option of your main search interface to false.

Since this option has been removed from the Interface Editor UI, you add the corresponding data- attribute in the markup configuration of your SearchInterface component:

<div

 

id=

"search"

 

class=

"CoveoSearchInterface"

 

data-allow-queries-without-keywords=

"false"

>


  

<!-- ... -->




</div>



The table below lists the components which have been removed from the UI Settings menu, and provides links to the corresponding JavaScript Search Framework documentation.

The following Search Interface component options have been removed from the UI Settings > Search Interface section:

Enable collaborative rating (deprecated)
Endpoint

The Folding components (i.e., Result Attachments and Result Folding) are no longer available as drag and drop components when editing a result template layout in the Interface Editor (see Folding Results).

The following Facet component options have been removed from the Interface Editor:

All Facet search options, i.e.:
The Filtering option, i.e.: Use AND
All Computed Field options, i.e.:
All Responsive Options, i.e.:

Enable responsive mode
Responsive mode dropdown label

The following Tab component options have been removed from the Interface Editor:

All partial match options (i.e., Enable partial match, Partial match query threshold, and Partial match result threshold) have been removed when editing the Searchbox in the JavaScript Search Editor (see Taking Advantage of the Partial Match Feature).

The Settings component (i.e., the button that used to appear next to the search box) is no longer available in the Interface Editor.
Other Changes
| Issue Number | Enhancement |
| --- | --- |
| IE-598, IE-614 | Various improvements to the Facet Value Caption Editor. |
| IE-599 | Change the "search as you type" string to "search-as-you-type". |
| IE-620 | Ensure that human-readable component option labels are automatically generated. |
| IE-644 | Ensure that only facet fields are suggested when creating a facet. |
| Issue Number | Case | Maintenance Case |
| --- | --- | --- |
| IE-616 | 00050409 | Fixed TypeError issue when deleting field from Field Table. |
| Issue Number | Bug Fix |
| --- | --- |
| IE-618 | Fixed issue where Filter Expression Editor did not properly send the organizationId query parameter. |